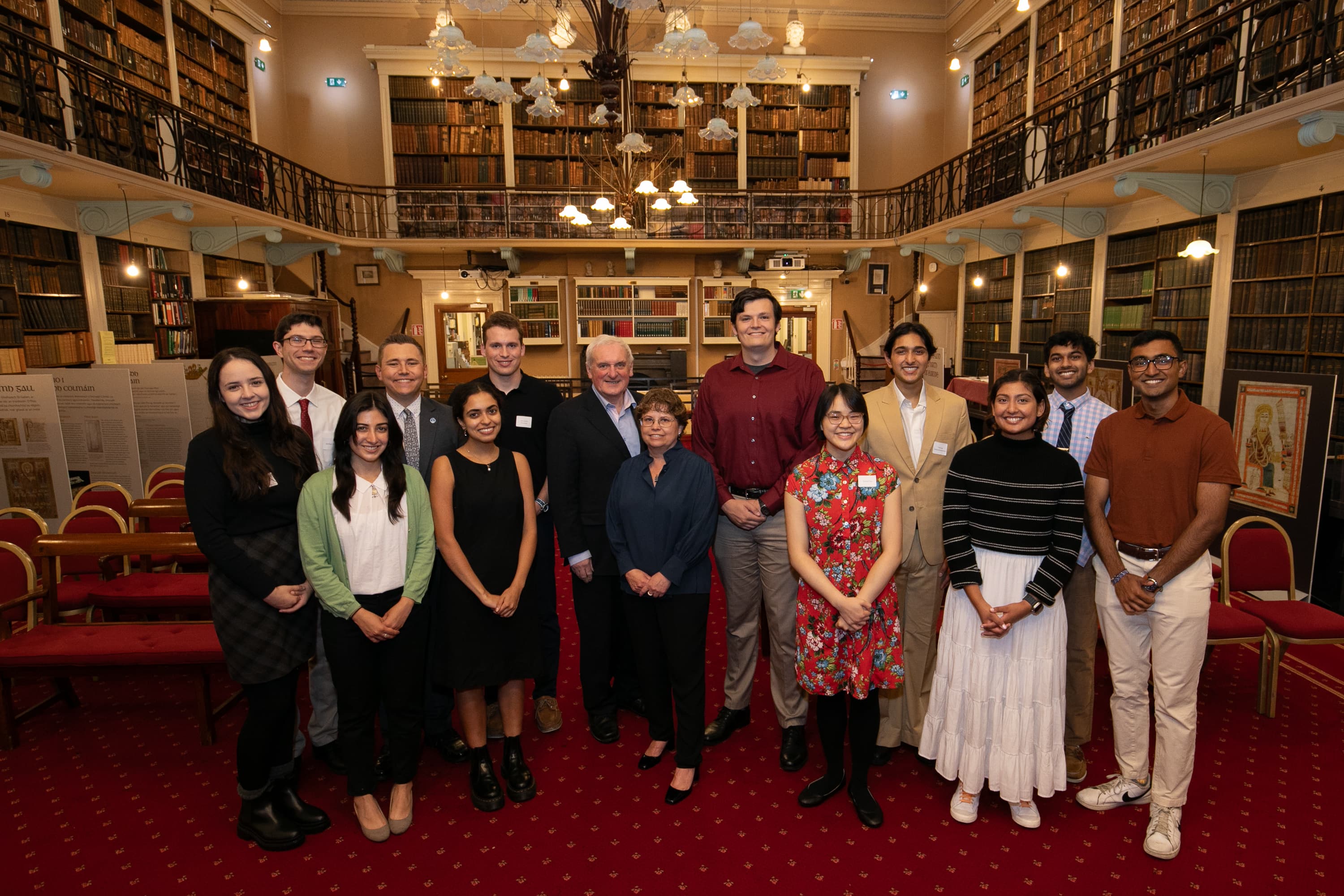 Photos by Patrick Bolger
18 September 2023.  The 24th Class of Mitchell Scholars arrived on the island to spend a year of graduate study at universities in Ireland and Northern Ireland.  They kicked off with a reception on Friday night at the Royal Irish Academy in Dublin.  Many friends, some new, some long-time, came out (despite that it was a miserably rainy evening) to welcome them.  We were delighted to be joined by former Taoiseach Bertie Ahern.  This program would never have gotten off the ground without Bertie sharing the vision 25 years ago – we hope others will prove to be as visionary.  
Saturday was largely spent in the Liberties.  The group walked to Kilmainham Jail for an excellent tour.  Then it was off to lunch on Meath Street.  Trina recalled hearing Irish singer Imelda May say Fuscos is the best chipper in Dublin, so we gave it a try, and agree.   Just down the street is an Argentinian bakery, Bakeology.  Former Irish Ambassador Rory Montgomery had introduced this place to Trina, and it proved the excellent option for vegetarians.  The afternoon was spent at the Museum of Literature Ireland on Stephens Green.  Mitchells enjoyed hearing Irish writers talk about their process.  Also, at MoLI was The Holy Hour: A Requiem for Brendan Behan -- an audio-visual installation, created by author Patrick McCabe, which "celebrates the centenary of Behan's birth, and mourns the essential tragedy of his short life. McCabe brings visitors on a profound, often hilarious – and at times almost psychedelic – voyage through glimpses of Behan's life and work. Through the prism of the Roman Catholic liturgy, McCabe's Holy Hour blends archive footage, heavy lashings of music, and Behan's own words to cast the Dublin writer in a more nuanced light."  The weekend was concluded with dinner at the great Indian restaurant, Pickle.
Check out our photos to see who was in attendance.