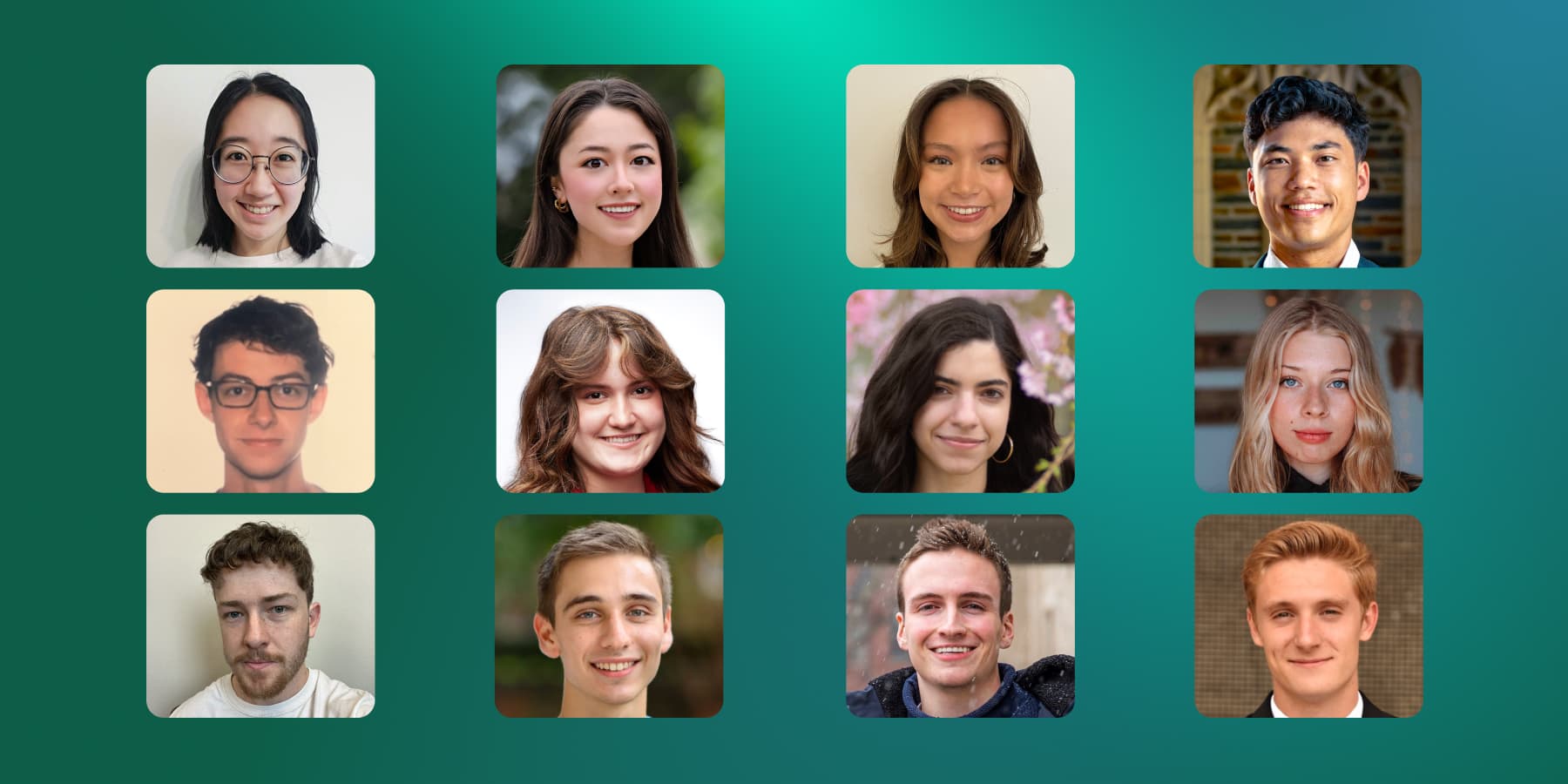 Class of 2025 Mitchell Scholars Announced
20 November 2023
The US-Ireland Alliance has announced the 12 members of the George J. Mitchell Scholar Class of 2025 following virtual interviews held on Saturday.  Serena Wilson, director of the program said: "Nearly 350 individuals applied for the 12 scholarships, a nearly 9% increase in applications over last year.  Drake University, Bryn Mawr College, and Tulane University have their first Mitchell Scholar recipients this year." 
Trina Vargo, founder of the program, noted that "this year marks the 25th anniversary of the Alliance, the scholarship program, and the Good Friday peace agreement.  That agreement was chaired by Senator Mitchell."  As one of the country's most prestigious scholarship programs, it sends future American leaders to the island of Ireland for a year of graduate study.  
Members of the selection committee included Don Bishop, a college admissions expert with 45 years of experience, he recently retired as head of undergraduate enrollment at the University of Notre Dame; Ryan Hanley, a Mitchell Scholar alum and CEO of Equilibrium Energy; Orla Keane,  Deputy Ambassador, Embassy of Ireland in Washington, DC;  Jennifer Lambert, a Mitchell Scholar alum and Office Director for the Office of Research in the Bureau of Global Public Affairs at the Department of State; Katie McMahon, a global entrepreneur and technology executive who has been at the leading edge of AI and natural language understanding technologies over the past twenty years; and Harry McNamara, a Mitchell Scholar alum, lecturer at Princeton, and the scientific co-founder of c16 Biosciences.
Major supporters of the program include Ireland's Department of Further and Higher Education, Research, Innovation and Science and Strong Roots, a vegan food company founded by Sam Dennigan. Modern Hire provides the video component part of the interview process. The Scholars will begin their studies in Ireland and Northern Ireland in September 2024.  
George J. Mitchell Scholars, Class of 2025
Tyler Bartolome, of Lincoln, Nebraska, is a senior at Drake university with four majors in Biochemistry, Cell & Molecular Biology; Mathematics; Biology; and Chemistry. He is interested in using biotechnology research and international public policy to address climate change, and he won a highly competitive Barry Goldwater Scholarship for his research and academic achievements. Tyler led Drake University's Semi-Passive Algae Rooted Carbon Caption (SPARCC) team to compete in the international OpenAir Carbon Removal Challenge, where they were the sole U.S. team in the finals. He conducted successful biotechnology research as an undergraduate at the University Nebraska-Lincoln, Drake University, and Johns Hopkins University. As the first two-term President of the Drake Chapter of Beta Beta Beta, an honor society for the biological sciences, Tyler and his team doubled the size and funding of the organization. Tyler is also President and Founder of The Oral Record Institute, a 501(c)3 non-profit organization that collects and curates "oral histories" of individuals who have experienced military conflict, to better understand the effect that major historical events have on individuals. In his free time, he trains for triathlons, studies Arabic, and plays the mandolinTyler will study Biotechnology at University College Cork.
Sam Bisno, of Pittsburgh, Pennsylvania, is a senior at Princeton, where he studies History.  The son of lifelong labor organizers, Sam spent summers working to win safe staffing standards for Rhode Island's nursing home workers and encouraging investment in clean energy and union jobs for the Appalachia region's workers.  He was the recipient of the Carter Combe Prize for the best junior-year independent work in History at Princeton.  Sam is Editor-in-Chief of the Princeton Historical Review and Editor-in-Chief of The Nassau Weekly. For the Princeton Asylum Project, he researches conditions in asylum seekers' countries of origin, and he is an active member of an organization advocating for an end to mass incarceration. He spent a summer interning for StoryCorps.  Knowing that Irish leaders, like Daniel O'Connell, were staunch abolitionists and, conversely, that many older Irish families had been slaveholders and that many Irish Americans were among the most outspoken working-class supporters of slavery, Sam wishes to research how transatlantic slavery and abolitionism influenced the trajectory of both Ireland and the US. Planning a career as a scholar of transatlantic slavery and labor history Sam wants to combine his passion for history with his commitment to social justice. Sam will study History at Queen's University Belfast.
Anika Cho, of Beaverton, Oregon, is a senior at the University of Alabama studying Electrical Engineering and Physics. She is interested in developing acoustic methods and technologies that will advance ocean exploration. Anika is the recipient of the 2022 NOAA Hollings Scholarship, through which she worked with NOAA Ocean Exploration on deep-sea research using acoustic data to conduct an ecological study of a submarine canyon. With a National Science Foundation REU, Anika spent two summers at the Dauphin Island Sea Lab, building low-cost instruments to measure the physical properties of seawater and the seafloor, and presented her findings at the 2023 ASLO International Aquatic Sciences Meeting in Palma de Mallorca, Spain. She also conducts research at the University of Alabama, developing a compact acoustic modem that can wirelessly send and receive data encoded in underwater acoustic signals. Anika is Vice President of the Amateur Radio Club and volunteered as an event captain to organize a regional Science Olympiad hosted by the University of Alabama. In her free time, Anika plays first violin in her community orchestra, is a PADI certified scuba diver, and is a MATE ROV underwater robotics team mentor. Anika will study Electrical & Electronic Engineering and University College Cork.
Anna Clark, of Tokyo, Japan and Danbury, Connecticut, and currently living in the Philippines, is a senior at Stanford University earning a BS in Engineering Physics and a MSc in Management Science & Engineering.  She is interested in macro-scale power systems engineering to design more efficient and resilient energy systems that allow for an increased penetration of renewables into the grid. Anna is a Stanford Schultz Graduate Fellow, Department of Energy SULI, and research assistant at the Stanford Natural Capital Project. She presented a first-author paper at the TORQUE conference hosted by the European Academy of Wind Energy, which was later published in "Journal of Physics: Conference Series." As President of the Stanford Energy Club, she connected students to energy careers and research, founded a 5-week bootcamp for new undergraduates to engage with energy leaders in industry and academia, and raised $30K for the club. With local high schools, Anna co-founded the POWER Initiative to introduce students from marginalized communities to energy topics through graduate students' presentations of their research. In her free time, Anna scuba dives, is an amateur pastry chef, and runs (preferably half marathons).  Anna will study Smart & Sustainable Cities at Trinity College Dublin.
Owen Emerson, of Huntsville, Alabama, is a senior at the University of Alabama where he is studying Economics.  He is a guitarist and singer-songwriter who fuses Appalachian folk music techniques with modern pop and alt-rock styles. Noting the Ulster Scots influence on Appalachian music, he wants to become a documentarian and educator of Appalachian-Irish musical heritage. As an economist and marketing professional, Owen works with nonprofits in rural Alabama to create culture and tourism development programs for small local communities. He started internship programs to match University of Alabama students with rural Alabama nonprofits seeking volunteers and designed social media tourism campaigns for small Alabama towns with underemphasized civil rights history. His volunteer activities include working for a foodbank in West Alabama and helping at-risk Marion, Alabama high school students build strong college applications.  Owen plans to combine music creation with cultural preservation to serve Appalachian East Tennessee -- recording and performing neo-folk songs for a wider audience while simultaneously working as an educational programs manager with the Great Smoky Mountains National Heritage Center and other cultural nonprofits in Knoxville, Tennessee. He wants to be an ambassador of Irish-American folk music to the region's tens of millions of annual tourists.   Owen will study Music & Media Technologies at Trinity College Dublin.
Thomas "Tommy" Hagan, a resident of Chicago, obtained is BA in Philosophy from the University of Chicago. For the past decade, he has entered prisons and jails on a weekly basis to build community with incarcerated people. Two years ago, Tommy, along with two friends who were previously incarcerated, launched the REAL Youth Initiative, which conducts weekly workshops at three juvenile prisons and robust community reentry programs that include paid fellowships and care networks. As a member of the Coalition to Decarcerate Illinois, Tommy has helped put pressure on the EPA regarding violations of the Federal Safe Drinking Water Act in prisons across the state.  At Northwestern Law School's Children and Family Justice Center, he was the co-lead of a campaign which seeks to close the five remaining Illinois youth prisons.  Tommy has run several marathons to raise money for a variety of causes.  An Irish American, Tommy and learned from his grandparents about the experience of cousins who were incarcerated in Long Kesh and the H Blocks in the 1980s, as well as recently learning that one of his relatives died on the 1981 Hunger Strike.  Interested in comparing prison systems, Tommy will study Peace & Conflict Studies at Ulster University.
Christopher Kuo, originally from Wellesley, Massachusetts, recently graduated from Duke University with degrees in Political Science and English.  He is now a Reporting Fellow on the Culture desk at the New York Times. In pas summers, he interned at the Tampa Bay Times, and the Los Angeles Times.  Chris has won multiple awards for his reporting including being part of a Duke Chronicle team of editors that won a 2022 Pacemaker from the Associated College Press, recognizing the best in college journalism. He was also the Editor-in Chief of Duke Crux, an undergraduate journal of Christian thought, and he was the Travel Team Captain of Duke's nationally competitive Moot Court which sent multiple teams to regional tournaments and to the national championship.  Chris has been involved in various charities, including creating a podcast for Simple Charity, a nonprofit that raises money for various Christian charities around the world.  He also participated in service trips to Guatemala and Ecuador.  He hopes to one day take charge of a global news organization, fostering partnerships between journalists in America and around the world to exchange best practices and brainstorm solutions to the industry's challenges. Chris will study Journalism at the University of Limerick.
Elizaveta "Lisa" Maslovskaya, a resident of Norman, Oklahoma, is a senior at the University of Oklahoma where she is studying Creative Media Production & French. She is an immigrant from Russia and a year ago became a US citizen. Lisa is a documentary maker who filmed Hurricane Ian in Florida where she and her team focused on journalists and meteorologists who continued reporting on the disaster through the horrors of the storm. Just this year she received eight awards for her documentaries and recently won an undergraduate fellowship to research and film a documentary on the war in Ukraine. Two of her documentaries won awards from the national Broadcast Education Association. She recently received of the National IDEA Inspire the Passion Award for her work with the NBA's Oklahoma City Thunder.  Her goal is to understand the impact host countries have on refugees around the world. Her recent documentary is on Ukrainian refugees in the United States and their lives 1.5 years into the war. Noting that Ireland has seen significant increases in immigrant and refugee populations in recent years, she now hopes to research how Ireland deals with refugees and immigrants.  Lisa will study Documentary Practice at Dublin City University.
Chloe Nguyen, of Las Vegas, Nevada, is a senior at Duke University where she studies Public Policy with a minor in Psychology. Chloe is the founder of Duke Justice Project, a club addressing mass incarceration and improving re-entry in North Carolina. The group's projects include weekly GED tutoring classes, assisting lawyers with expungement petitions, and executing a supply drive for a transitional home. Committed to decreasing political polarization on campus, and connecting ideologically diverse students across campus, in partnership with Braver Angels, she has organized structured debates on difficult topics ranging from social media censorship to reparations.  At WRAL TV, she is a Poynter-Google News Initiative Misinformation Student Fellow, investigating barriers to news access for Spanish speaking communities and surveying those communities to determine perception of and trust in fact-checking.  As a reporter for 9th Street Journal, Chloe broke a story on a blackout at an affordable housing complex for seniors and disabled people which resulted in internal policy change to increase safety for seniors and disabled persons during blackouts. She aspires to continue learning how the online micro-targeting of disinformation and political advertisements into diverse communities amplifies offline polarization and violence and plans for a legal career in technology regulation. Chloe will study Digital Policy and University College Dublin.
Isabel Plakas, a resident of New York City, is pursuing a master's degree in Nursing at Johns Hopkins School of Nursing.  Her undergraduate degree in Psychology is from Bryn Mawr College.  Isabel has spent the past five years working as a harm reduction specialist in Philadelphia, Spain, Boston and Baltimore.  She is the recipient of a Nursing Scholar Award from the National Association of Hispanic Nurses and was recognized by the Boston Medical Center for building harm reduction programming at a novel transitional shelter site that also served as a 24/7 overdose monitoring unit.  She increased accessibility of medical care for people experiencing homelessness in Boston by running a mobile medical clinic and engaged young people with substance use disorder by developing a novel delivery service. Working at Boston Hope, a 1,000-bed medical center for unsheltered individuals recovering from coronavirus infection, she prevented overdose fatalities during a period when people were more isolated than usual. She serves as Co-President of Nursing Students for Harm Reduction at Hopkins.  Isabel is also a volunteer for No One Dies Alone, an organization which helps to provide a dignified death to individuals who have no family or close friends to be with them at the end of life.  Isabel will study study Addiction Recovery at Trinity College Dublin.
Kiera Sky Torpie, hailing from New York City, is a graduate of Tulane University where she obtained a degree in Linguistics and International Development.  From an early age, Keira understood that writing had the power to connect. Her relationship with her incarcerated father was largely bound by letters. After her father's death, she learned that writing can also heal.  While at Tulane, she created a workshop for girls whose families had been impacted by incarceration. Last summer, she took her play, Sunny Makes a Scene, to the Festival Fringe in Edinburgh. The dark comedy follows a teenage girl as she wreaks havoc at her dad's Irish Catholic wake. To address its theme of addiction, she collaborated with a local harm reduction organization that attended each performance and handed out overdose prevention resources to patrons as they left. Her goal is to create cathartic healing experiences for others through writing.  She currently works part-time as a House Manager at a non-profit theatre in New York. While living in Los Angeles, she was an Associate Producer for an un-scripted TV show on NBC, an Executive Assistant at HBO Max, and held various production assistant roles on commercials, short films, and music videos. Kiera will study Creative Writing at Queen's University Belfast. 
Coleman Yorke, of New York, New York, was an undergraduate at Columbia University where he studied English and Psychology, and a Masters' student at Oxford University where he studied Clinical and Therapeutic Neuroscience. He is currently living in South Korea as a Luce Scholar, working in a lab at Yonsei University deepening his understanding of adolescent mental healthcare.  Coleman is interested in redefining our cultural conception of mental illness as an objective health concern, rather than portraying it as a weakness, hopes to provide mental health education and clinical care as an adolescent psychiatrist. In his dissertation at Oxford, he first looked at the how social isolation experienced during the pandemic, posed significant challenges to adolescent mental health. Next, he studied the relationship between age, mental health, and antidepressant use during the COVID-19 pandemic. Coleman served many hours as a Crisis Counselor, Grief Facilitator, Hospice Volunteer, Patient Escort or Caregiver Support Volunteer for many organizations, lending his counsel for people in their worst moments. In his free time, he can often be found at a rock-climbing gym or reading 19th century novels. Coleman will study Global Mental Health at Trinity College Dublin.