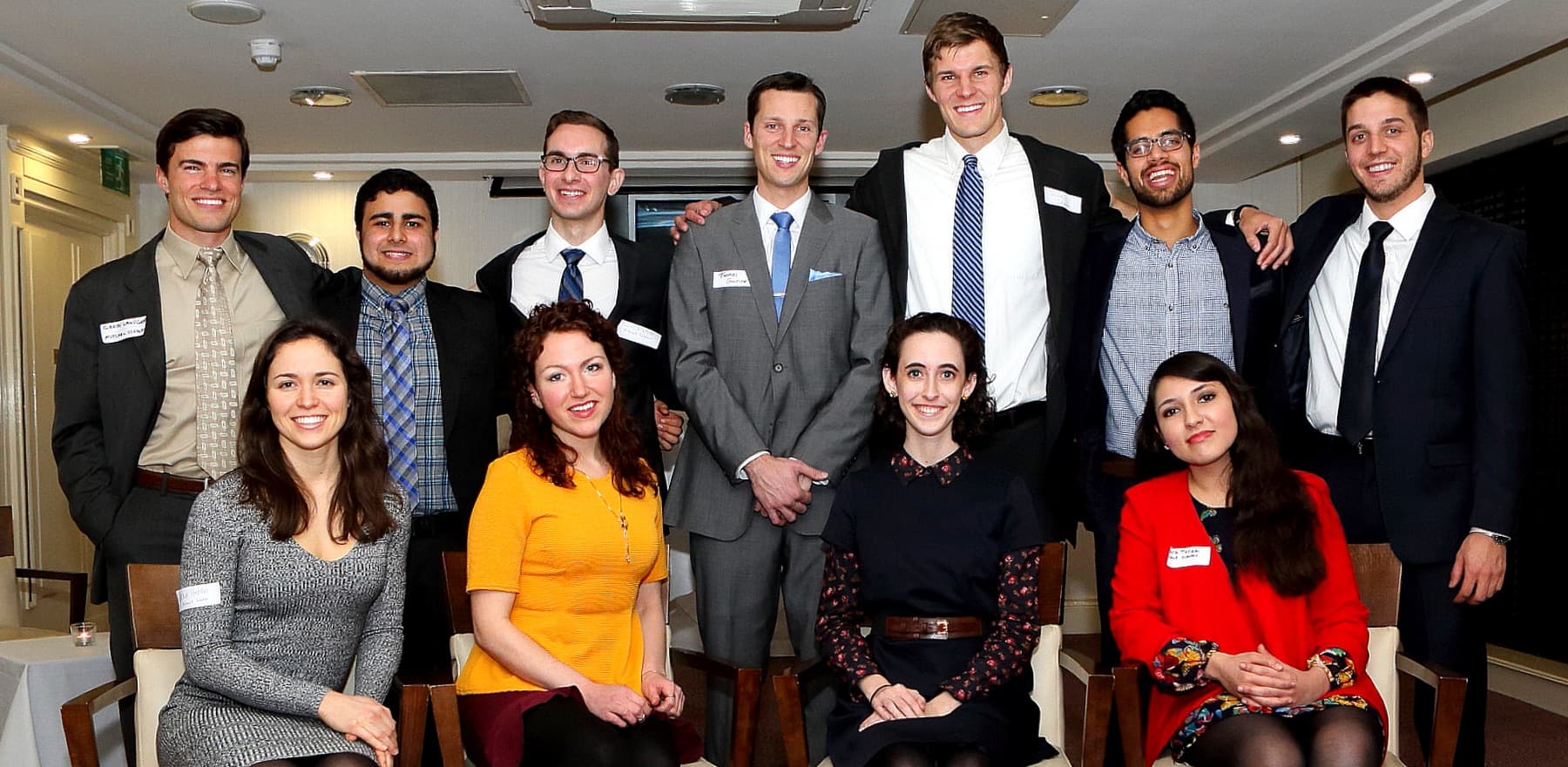 Application Deadline
Applicants, Recommenders, and Endorsers must submit all materials through the online application by 5:00 PM Eastern Time on September 28, 2023. The applicant is solely responsible for submitting their application and ensuring that all four letters of recommendation and the endorsement (for undergraduate students only) are submitted by the deadline.
If you are an undergraduate student, please note that your college or university's deadline for institutional endorsements will be earlier than the Mitchell Scholarship application deadline (in some cases, much earlier). Please contact your campus fellowship advisor for these details before starting the application process. Graduate students and applicants in possession of an undergraduate degree at the time of the application deadline, do NOT submit an institutional endorsement.
After I submit my application, may I un-submit it for any other reason?
No. Once you submit your application to the Mitchell Scholarship Program, you and we cannot un-submit it. After submission, you will only have access to the application status page, where you can monitor your recommendation and endorsement letter submissions.
Once you submit your application, you will receive a confirmation e-mail. After submission, you can no longer change a recommender, correct a recommender's e-mail address, or otherwise revise your application. To maintain control, some applicants choose to submit their application only after all recommendation letters are uploaded. You will still have access to the application status page, where you can monitor your recommendation and endorsement letter submissions after you submit the application
Please ensure the availability of your recommenders, and that you have provided a correct e-mail address for recommenders, prior to submitting your application. You will be able to send reminder e-mails to recommenders right up to the deadline.
Materials and Information Needed to Complete the Application 
Materials you will need to complete the Mitchell Scholarship application:
* A headshot photo (JPG, PNG, PDF). Consider that, if you are chosen as a Mitchell Scholar, we will use this photo for press releases.
* All transcripts scanned into a single PDF (please block out your Social Security number, if visible). This should include any undergraduate and graduate work you have completed. You may upload unofficial transcripts at the time of application. We will require official transcripts at the finalist stage in November.
* Personal statement (1,000 words maximum). The personal statement or essay is your opportunity to share your personality and interests with the selection committee. See below for updated guidance.
*An image scan of your signature (JPG, PNG, PDF).
Information Needed to Complete the Application:
* GPA.
* Contact information for 4 Recommenders including email, mailing address and phone number.
* Contact information for the Institutional Endorser (undergraduate students only), including the complete mailing address of your university.
* University choices and field of study options - We recommend that you choose at least three programs at three different universities, and you may list as many as five. Choosing fewer than three may weaken your candidacy. When evaluating programs, remember that the Mitchell Scholarship Program provides funding and housing only for September through May of an academic year. If your program requires you to stay beyond May 31, you will need to incur those expenses.
*Information about your awards, achievements, community service, etc.
The Mitchell Scholarship Program will ask applicants selected as finalists to provide:
* Proof of U.S. Citizenship.
* Official copies of all transcripts in a sealed envelope or through a secure electronic system directly from the applicant's registrar.
How are supporting documents submitted?
You must submit all supporting documents, such as your transcripts, photograph, resumé, and signature, directly into your online application. You may upload unofficial transcripts at the application stage. If you accept an offer for a final interview, you must present official transcripts -- either in a sealed envelope from the registrar or as a secure electronic version from the registrar.
Is there a GPA requirement to qualify for the Mitchell Scholarship Program?
While we do not have a minimum GPA requirement, applicants must have a strong academic record that convinces the selection committees that the applicant is prepared to undertake the proposed graduate course of study.
The Personal Statement:
Applicants may receive strategic feedback from their fellowship advisor/mentor on their personal statement draft. Line-by-line editing is not allowed, and each applicant's personal statement must represent their own work, voice and experience(s) and address why studying in Ireland and/or Northern Ireland as a Mitchell Scholar makes sense for their future goals. Briefly discussing an applicant's university and program choices is helpful.
Applicants must check a box in submitting their application that attests to the fact that the work is their own, and truthful, and that they did not use any AI (such as ChatGBT) to assist with their essay.
For applicants also applying to other scholarship opportunities: We do not require that you write a completely different essay for the Mitchell Scholarship application. You may re-use the portion of your essay that makes sense for the Mitchell application, as long as it addresses why studying in Ireland and/or Northern Ireland as a Mitchell Scholar is consistent with your goals.
Video Interview
Shortly after the application deadline passes, you will receive an email invitation from the company Modern Hire to complete your video interview. Instructions are provided at that time, and you will be given the opportunity to test your video quality and Internet connection. If you have technical issues, you have direct access to the video team, Modern Hire Support, who are on call 24/7 and can answer questions within an hour no matter where you are in the world. Once you are comfortable with your connection, you can begin the session. Applicants may complete the interview using computers, Androids or iPhones, as long as the phone has a front-facing camera.
For the video interview, the Mitchell Scholarship Program will ask you four questions. Modern Hire will provide you the questions one at a time. We give you time (30 seconds) to read and think about the question and then time to record an answer. The time allotted varies per question (1:00 to 3:00 minutes). The video stops recording when the allotted time runs out. When you are ready, you may ask for the next question.
We want spontaneous and unscripted answers. The best advice we can give you is to "relax and be yourself." Although we are not asking complicated questions about nuclear fission, we do expect you to be knowledgeable about major domestic and world events. 
What if I have a disability that may complicate my video interview?
We will be happy to discuss ADA (Americans with Disabilities Act) accommodations for those who require them. Email the Mitchell Scholarship Program director to discuss your situation.
Interviews
We will invite semi-finalists to a Zoom interview that will occur in late October. We will then select twenty finalists, who will interview with our final selection committee, via Zoom, on the Saturday before Thanksgiving.
Technical Difficulties: Tips on How to Resolve
Please share these tips with your recommenders and institutional endorsers. Also, we strongly recommend that you ask your letter writers to submit their documents early. Our deadlines are strictly enforced. Every year, applicants are disqualified when recommendations are not submitted by the deadline. We make no exceptions for late documents.
I can't upload a transcript, a photo, resumé, or a signature. What do I do?
The most common error that applicants encounter is attempting to upload the wrong file type. If you are receiving an error in uploading your transcript, photo, resumé, or signature, check the file type. Our system accepts PDFs for transcripts and resumés, and JPG, PNG, and PDFs for photo or signature uploads. Please do not send encrypted PDFs. We strongly recommend uploading all documents early in the process to avoid system delays. The system may slow down when many applicants attempt to upload documents on the day of the deadline.
Why does your system say my word count is inaccurate?
All word counting systems operate slightly differently depending on how they count hyphenated words, contractions, etc. For example, our system may count a contraction such as "can't" as two words, but count "cannot" as one. Therefore, your computer's word count of 1000 words may not match the word count in our application. If this occurs, you need to reword your statement to accommodate our system. Note: There is no special formatting allowed in the long text fields (essay and recommendations). The system will strip out any centered, bold text or other formatting. If typing directly into the field, save often.