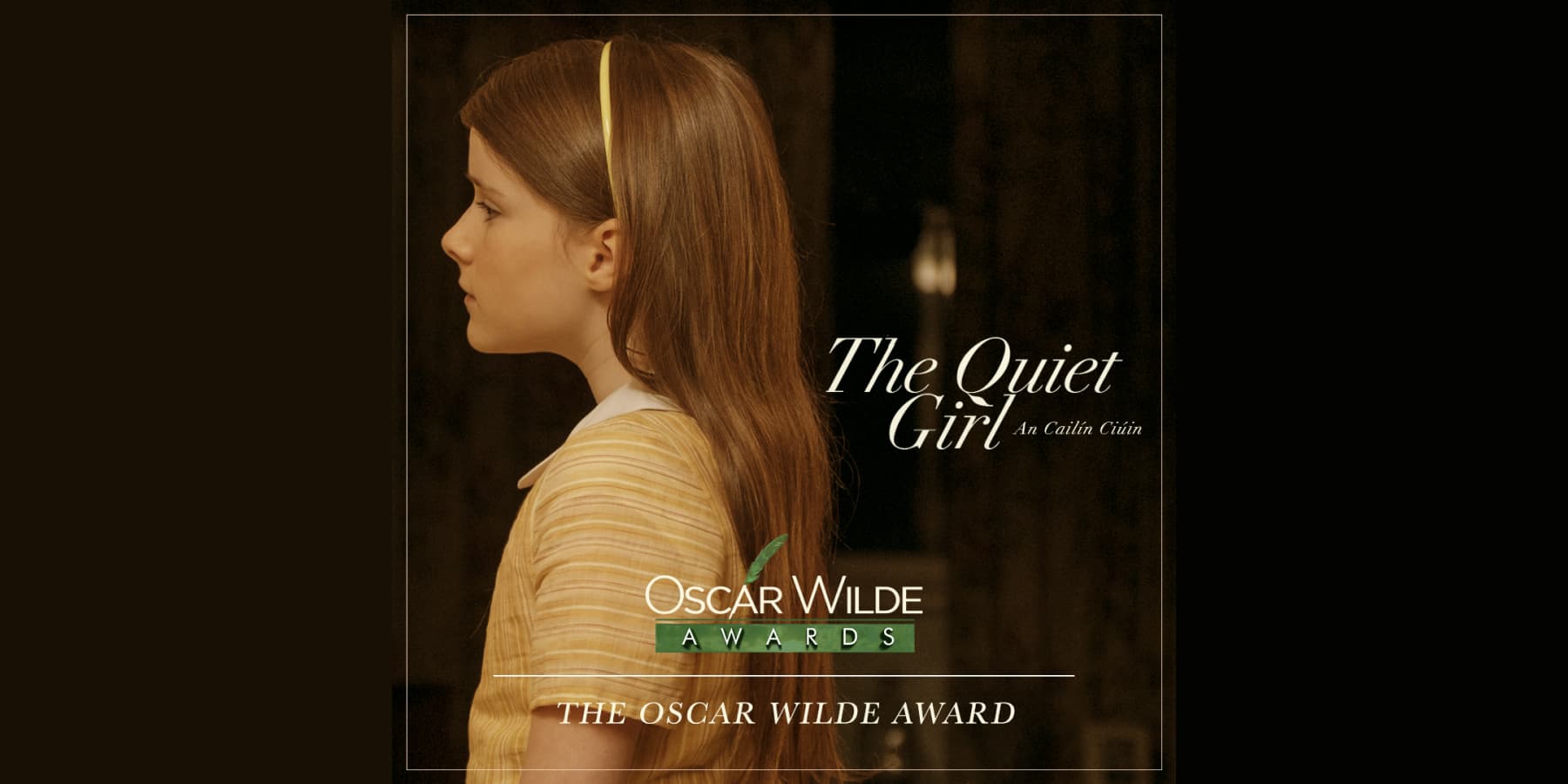 AN CAILÍN CIÚIN (THE QUIET GIRL), the first Irish language film ever nominated for an Academy Award for Best International Feature, will be recognized at the US-Ireland Alliance's Oscar Wilde Awards.  Director Colm Bairéad and producer Cleona Ní Chrualaoí will be on hand to accept the award for the film.
The annual event is being held on 9 March at Bad Robot, the Santa Monica production company of J.J. Abrams and Katie McGrath. Also being honored on the night are Academy Award nominee Kerry Condon (BANSHEES OF INISHERIN); Jessie Buckley, a previous Academy Award nominee (THE LOST DAUGHTER) and currently seen in WOMEN TALKING; and Eve Hewson, who will receive the award presented to a rising talent. Her performance in John Carney's new film, FLORA AND SON, has received rave reviews.
Trina Vargo, founder of the US-Ireland Alliance, said, "for AN CAILÍN CIÚIN to be in the final five, in a category with more than 90 eligible films, is a massive achievement. It's lovely to see Irish language films receiving more attention and recognition – last year our rising talent award was given to Dónall Ó Héalai who starred in another excellent Irish language film, ARRACHT."
In terms of the Academy Awards, in addition to Kerry Condon's nomination, there are multiple nominations for BANSHEES OF INISHERIN including: Martin McDonagh for Best Picture, Best Director, and Best Original Screenplay; Colin Farrell for Best Lead Actor; and Brendan Gleeson and Barry Keoghan for Best Supporting Actor. Farrell, Gleeson, and Keoghan are past recipients of Oscar Wilde Awards. Paul Mescal is also nominated in the Best Lead Actor category for AFTERSUN. Vargo said that also planning to attend the Oscar Wilde Awards this year are Richie Baneham, nominated for Best Visual Effects for AVATAR, THE WAY OF WATER; Jonathan Redmond, nominated for Best Film Editing for ELVIS; and Northern Ireland's Tom Berkeley and Ross White, nominated for Best Live Action Short for AN IRISH GOODBYE. Vargo added, "In addition to some of our previous honorees who will attend, others who will be on hand include Peter J. Devlin, the Belfast-born sound mixer who is being honored this year by the Cinema Audio Society for career achievement. Peter is a five-time Oscar nominee and worked most recently on BLACK PANTHER: WAKANDA FOREVER and BULLET TRAIN. Kate McCullough will also join us. Kate is a nominee for the American Society of Cinematographers' Spotlight Award for her work on AN CAILÍN CIÚIN.  John Conroy is nominated for an ASC award for an episode of W
estworld
.  And our honorary Irishman, J.J. Abrams, and the team at Bad Robot, were producers on another Academy Award nominated film, Charlie Mackesy and Matthew Freud's THE BOY, THE MOLE, THE FOX AND THE HORSE. That film is nominated for Best Animated Short, so we'll be rooting for them as well."
What has long been established as the fun, casual, Irish party during Oscars' week, will be even more popular this year. The Irish band, The Coronas, will perform. Caterer Richard Mooney, the Limerick-born owner of Kensington Caterers, will serve up Irish favorites like fish and chips in a cup. Irish brands such as Taytos, Five Farms Irish Cream, Writers Tears Whiskey, and Guinness will be served, as will a relatively new entry into the drinks market – Wilde Irish Gin.
Hackman Capital Partners and The MBS Group return as lead sponsors of the event. Founder and Chairman Michael Hackman owns numerous studios and recently acquired Irish studios, Troy and Ardmore, and is building a new studio in Greystones. Screen Ireland and Northern Ireland Screen also return as sponsors, with much to celebrate. From BELFAST to now BANSHEES, it was another big year for an island of about 7 million people.