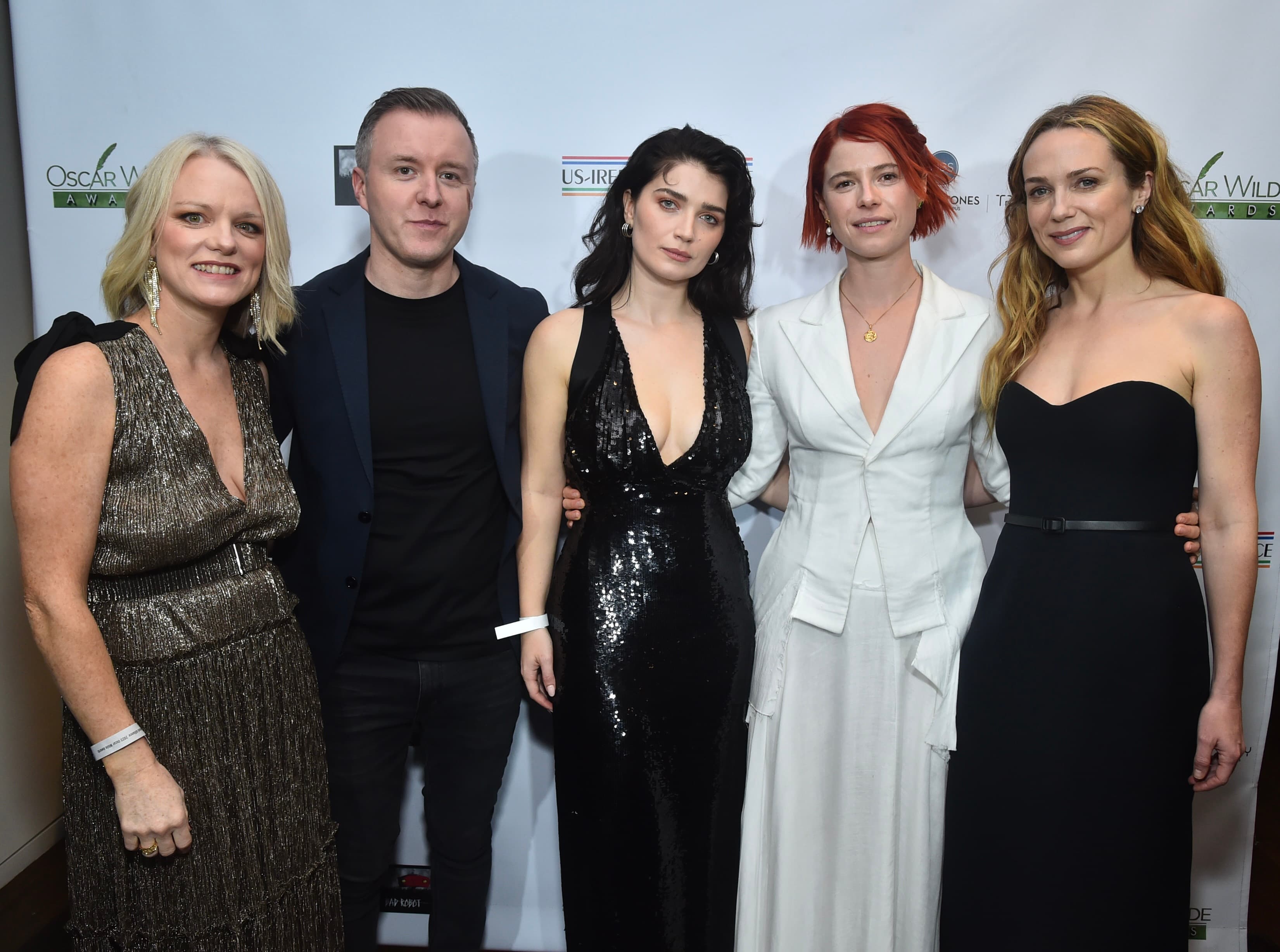 With an historic number of Academy Award nominations, the Irish had much to celebrate at the US-Ireland Alliance's annual Oscar Wilde Awards, held again at Bad Robot, the Santa Monica production company of J.J. Abrams and Katie McGrath. 
Alliance founder, Trina Vargo, who created the event 17 years ago, said that "from BELFAST last year, to BANSHEES this year, the Irish are on a roll. We were delighted to honor Kerry Condon, Jessie Buckley, and Eve Hewson this year, as well as AN CAILÍN CIÚIN."
Kerry Condon, fresh off a BAFTA win, and an Academy Award nominee for BANSHEES OF INISHERIN, was presented with her Oscar Wilde Award by Rhea Seehorn of Better Call Saul.
Seehorn said Condon "so inspired me to the depth of my soul as an actor, and then I got to meet her, and she's even better." She spoke of Condon's believability and her credibility, and called her "searingly honest in her performances." Condon spoke about her early days in America, including funny asides that everyone has come to know and love her for. She said that while in New York she remembered "there was a fella stalking me, 'cause I was in this HBO show Rome, and no one on the on the job cared because he kept sending us cupcakes from his bakery." She spoke of the many who supported her along the way, including people like Martin McDonagh, Dearbhla Molloy, and Marie Mullen, and how her experiences in America helped her secure some really great roles at home in Ireland and that she "stayed in America, and has happily been here ever since. I still remember all those people who made an impact on my life and my career along the way, and I feel really lucky that we crossed paths."
Jessie Buckley, a previous Academy Award nominee was presented with her Oscar Wilde Award by Sarah Polley who directed her in WOMEN TALKING, and who is herself nominated for an Academy Award this year for adapting the film's screenplay. Polley called Buckley "the most alive actor I have ever seen…. She's impossibly brave and impossibly funny, joyful, curious, playful, and interested in the world. Her power comes from an insatiable curiosity about the things the rest of us back away from."
In accepting Buckley said she finds the whole awards thing "a bit bewildering. I usually get kind of squashed like some kind of sausage into a dress and can't wait to get home and like, have chips and tequila, and put my pajamas on." But she thought this Irish award "might be a bit different."  She spoke of how her mother took her to a production of Jesus Christ Superstar at her local town hall in Kilkenny when she was 7, and how the magic of it all changed her life.
She said that "to be here today, to be part of a community that celebrates Irishness is so bloody, fucking wonderful. Just to be here, to be part of all of this, is epic. I'm so, so grateful for it all. I'm so grateful to do something that I love, and I never take it for granted. I am Irish, and so proud."
Eve Hewson received the 'Wilde Card' award, presented to a rising talent. She was seen this year in the popular television series, Bad Sisters, and her performance in John Carney's new film, FLORA AND SON, received rave reviews at Sundance.  Charlie Hunnam presented to his friend who he described as an enigmatic, fearless actress, who truly embodies the spirit of what it means to be a Wilde Card. Hewson joked that "the last time I got an award I was 11, and I was in the Girls' Brigade, and it was for best hip, hop, dancer of the year." She thanked Sharon Horgan who put her in Bad Sisters saying it "made her proud to be Irish and so, so, so proud to be an Irish woman. And so, so, so, so, so proud to be a baby alcoholic with emotional issues and murderous tendencies. I can't tell you how many times someone has watched that show, and they tell me how similar I am to my character." Proud parents Bono and Ali Hewson were there to support their daughter. Eve thanked her father for his guidance and his wisdom and for teaching her what hard work looks like. "And to my mom, for loving me so much that I feel like I can fly."
Catherine Martin, Ireland's Government Minister responsible for the arts, tourism and the Irish language presented the special award for AN CAILÍN CIÚIN (THE QUIET GIRL), the first Irish language film ever nominated for an Academy Award for Best International Feature.   She said the film has "captured the hearts of so many and done so much to promote our beloved native language." Accepting the award were the film's director, Colm Bairéad and producer Cleona Ní Chrualaoí. The film's cast, including its young star Catherine Clinch were in attendance.  Colm and Cleona paid tribute to the entire cast and crew. They noted that, "We never got to have a wrap party because of Covid. We never got to celebrate all that we achieved together. But maybe Covid knew then what we didn't know, that we would be having the wrap party of our lives here in LA." More than any awards, they were most proud that their Oscar nomination "has helped to give a voice to our native language."
The always funny, "honorary Irishman", J.J. Abrams emceed the festivities. Peppering his remarks with a few Irish words, he told the crowd that he couldn't be translating for them all night and that if they didn't know what uisce beatha meant, they wouldn't be getting any.  
Film studio owners Hackman Capital Partners/The MBS Group, returned as the presenting sponsor of the event. Representatives from Screen Ireland, Northern Ireland Screen, and Enterprise Ireland were among those working the room to promote the island as a production destination. Films from Abrams' STAR WARS to Martin McDonagh's BANSHEES have made the island a popular tourist spot for film buffs. 
You couldn't swing a hurley stick in Bad Robot without hitting an Oscar nominee. Richie Baneham (Best Visual Effects for AVATAR, THE WAY OF WATER); and Mark Swift and Joel Crawford (Animated Feature for PUSS IN BOOTS: THE LAST WISH) were there. Northern Ireland's Tom Berkeley and Ross White, nominated for Best Live Action Short for AN IRISH GOODBYE, were enjoying the evening along with the film's stars Seamus O'Hara and James Martin. The Bad Robot team was celebrating the Oscar nomination for the Short Film (Animated), THE BOY, THE MOLE, THE FOX AND THE HORSE with Charlie Mackesy and Matthew Freud.
The casual event is always popular with industry heavyweights.  Former Chairman & CEO of Paramount, Jim Gianopulos; Patrick Crowley, President, Kennedy Marshall; Len Amato Chief Content Officer at Masterclass; Richard Lovett, President of CAA were on hand. The room was filled with producers, physical production executives and content creators. Execs from Apple, 20th Century Fox, Disney, HBO, Marvel, NBC Universal, Netflix, New Line, Paramount, Warner Bros. were enjoying the performance by the Irish band, The Coronas. The house party atmosphere was accentuated with Irish favorites like fish and chips in a cup, Irish lamb stew, Irish oatmeal pear tarts, Taytos, Five Farms Irish Cream, Writers Tears Whiskey, Guinness, and Wilde Irish Gin, which Abrams suggested was probably named for this party rather than the writer.
Also celebrating were Peter J. Devlin, the sound mixer honored last weekend by the Cinema Audio Society for career achievement; cinematographers Kate McCullough and John Conroy both nominated for ASC awards this year.  Kurtis Wade, lead singer of VNXI, the band that got a big boost by playing the event in a previous year, flew in from Ireland for the event.
Directors spotted were Terry George, Jim Sheridan, Victoria Mahoney, Lee Cronin, and Rick Famuyiwa. Actors walking the "green carpet" included Eoin Macken, Courtney B. Vance, Alice Eve, Mamie Gummer, Frankie Shaw, OT Fagbenle, Ram Charan, Aisha Taylor, Roma Downey and previous Wilde Card recipients, Sarah Bolger and Dónall Ó Héalai.